---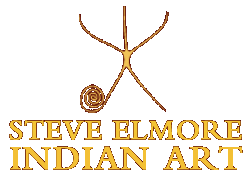 Welcome to Steve Elmore Indian Art located in historic downtown Santa Fe, New Mexico. We are presenting the best antique Native American art we can find with special interest in:

Historic Pueblo Pottery
Antique Navajo & Pueblo Jewelry
Antique Navajo & Pueblo Textiles
20th Century Pueblo Paintings
Early Hopi Kachina Dolls
Early Hopi Basketry
Steve Elmore Video

Since our opening in the spring of 2001 we have gathered a loyal following of collectors who appreciate our passion and enthusiasm for quality and service. For new collectors our site is a great resource for exploring all facets of this exciting field, from identification and attribution to pricing and dating. We are always adding new treasures so check back often.
Historic San Ildefonso Polychromes: 1875 - 1925
View Exhibition Here
Nampeyo Fannie: Five Generations of Artistic Achievement
Steve Elmore Indian Art is proud to present a unique selection of Hopi pottery by the modern artist Nampeyo (1856-1942) and her daughter Fannie

View exhibition here

Take a 360° Tour of the Gallery
Take the Tour
Steve Elmore Video Selections
Original Videos from Steve Elmore

Watch Videos!
---